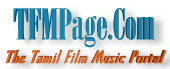 <!- ad ->
<!- Google search box ->
Kannadasan-IR combinations
Topic started by Arvind (@ webgate0.mot.com) on Tue Jul 14 06:08:31 EDT 1998.
All times in EST +10:30 for IST.

Kannadasan has penned lyrics for a number of IR songs. Now, even though Kannadasan is considered by a few people to have been in the twilight of his creative ability during IR's advent, there are numerous lovely songs that the duo have produced.

Secondly, songs of the 50s and 60s (and even 70s) were largely known as Kannadasan songs. Was this true of the songs that he wrote for IR's music as well ?

Let's take a look at all this ...
---
Responses:
From: Udhaya (@ 205.218.142.217) on: Tue Jul 14 15:18:30 EDT 1998
These classics come instantly to mind:
"kannan oru kaikkuzhandhai"
"senthaazhampoovil"
"ilamai enum poongaatru"

From: Raghavan (@ 166.37.105.63) on: Tue Jul 14 15:51:52 EDT 1998
What about Thyagam & MoonramPirai?

From: anandaum (@ 202.185.108.205) on: Tue Jul 14 20:47:05 EDT 1998
All the songs in thyagam, all in Nizhalgal except ithu oru ponmalai(Vairamuthu's),a Sivaji movie with songs like Thiru thEril varum silayo and a famous brother song, the song antha purathil oru magarani, poovili vasalili vantha kiliye kiliye and many more!

From: Sathiya Keerthi (@ panorama.nus.edu.sg) on: Tue Jul 14 23:04:39 EDT 1998
Udhaya:

'kaNNan oru kai kuzhandhai' is by Vaali. In fact,
it is the first song in IR-Vaali combination.

From: Ramki (@ wll137.wmlib.wmich.edu) on: Tue Jul 14 23:44:13 EDT 1998
anandaum Kannadasan didnt write any song in Nizhalgal(Vmuthu,GA and Vaali were the lyricist)
Poovizhi vaasalil and andhapurathil are by Pulamaipithan

From: Arvind (@ webgate0.mot.com) on: Wed Jul 15 00:36:24 EDT 1998
Some more excellent combinations :

* En Vaanile (Johny)
* Chinnan chiru vayadhil (Meendum Kokila)
* Endhan Ponvanname (Naan Vaazha Vaippen ?)
* Ramanin Mohanam (Netrikkan)
* Raja Ponnu Adi Vaadiyamma (??), etc.


From: bailvAn (@ bones.deneb.com) on: Wed Jul 15 08:46:34 EDT 1998
Atu kutti muttai ittu kOzi kunju vandhdhinnu

from 16 vayadhinilE is by Kannadasan.

kaNdEn engum poo magaL nAtiyam kAnbathellAmE
athisayam Anantham

from kARRinilE varum Geetham is by Kannadasan.

azagE azagu..dhEvathai...

from Raja Parvai is by Kannadasan.

kannE kalaimAnE kanni maiyilena kandEn unai nAnE

from MoondrAm PiRai is by Kannadasan (I guess his
lost movie song - Ramki/Pagal confirm !!)

Digression:

For a change I want to make this thread into
another IR - ARR kusthi ring......

ARR-KANNADASAN combo songs are MUCH MUCH BETTER THAN
IR-KANNADASAN combo!!!!

If anybody prove that it is wrong - I WILL GIVE UP MY MUSIC!!!






From: Udhaya (@ 205.218.142.217) on: Wed Jul 15 18:01:05 EDT 1998
bailvan (pul thadukki?) avargalae,
I'm pretty sure all 16 vayathinilae songs were penned by GA. Kaatrinilae Varum Geetham was penned by Panchu Arunaachalam.

Couple more to the list:
"Ponnaaram Poovaaram" from Pagalil Or Iravu
"Nadhiyoaram" from Annai Oar Aalayam

From: Pagalavan (@ bbn-cache-3.cisco.com) on: Wed Jul 15 20:04:57 EDT 1998
Udhaya
Attukkutti.. is by kaNNaDasan. You are right about kaNden engum pOOmagaL.., its by Panju AruNAchalam.

Bones
I too remember kaNNE kalaimAnE.. was the last song written by kavignar for IR. However, IR has later used kaNNadAsan's lyrics ("pAttukku mettu") for unnai nAn santhiththEn or so. I think dEvan thantha vEENai..athil thEvi seitha gAnam is kaNNaDasan's lyrics. Ramki can confirm, I guess.

From: Arvind (@ webgate0.mot.com) on: Thu Jul 16 00:28:42 EDT 1998
Bones Payilvaan Avargale :
ARR-Kannadasan combovaa ?! Ha ha ha ! "Something is better than nothing" enru solbavargalukkum, "Nothing is better than nonsense" enru solbavargalukkum sandai mootti vida pakkareengala ?

From: Ravi (@ ) on: Tue Oct 12 07:06:21 EDT 1999
Sevvanthi Poomudicha sinnkka(MV-PS), Attukkutti Mutttai Ittu(MV-SJ) and Solam Vethaikkatyile in Pathinaru Vayathinile are written by KD for IR.
The song Senthoora Poove was the only songwritten by GA(her first song also)in this film.

From: S (@ netcache32.mot.com) on: Tue Oct 12 11:28:27 EDT 1999
her ???

From: Kishore Krishna (@ unknown-11-182.clorox.com) on: Sun Oct 17 00:26:52 EDT 1999
kovil mani osai thannai kettadhaaro?
aayiram malargale malarungal
azhagiya kanne uravugal neeye
vaan megangale vazhtungal
perai sollavaa athu nyaayamaguma?

kaali, rishimoolam,..

In a kannadaasan 1st memorial anniversary issue,
IR writes that the last 3 songs written by KD
were for him. The last 2 were raaja raani jackie
vaazhvil enna baakki? and kanne kalaimaane (I don't recall the first one).

From: JJ (@ ) on: Thu Jul 25 13:32:27 EDT 2002
Hit songs of KKD and IR combo.

Sridevin Envazhvil - Illamai Kolam
Devadai - Pattakathi bairavan
Radha Radha Nee - Meendum Kokila
Alli Thanda Boomi - Nandu
Raamanin Mohanam - Netrikkan
Vasantha Kala Kolangal - Thyagam
Illamaiyenum Poonkatru - Pagalil oru Iravu
Manjal Nilavukku - Mudhal Iravu
Aayiram Malargale - Niram Maratha Pookkal
Senthazampoovil - Mullum Malarum
Koil Mani Osai - Kizakke Pogum Rail
Enthan Pon Vanname - Naan Vazha Vaippen
Ponnaram Poovaram - Pagalil oru Iravu
Oru Thanga Radathil - Thanga Magan

From: S.Chandrasekaran (@ 203.145.161.163) on: Fri Jan 24 22:59:05 EST 2003
Hi
oru thanga radathil is frm Dharmayudham and not
thanga magan.
Alli thanda boomi is also frm a different film and
not Nandu, I am not sure abt the name.











From: Hari (@ 24.168.148.140) on: Sat Mar 8 20:38:21 EST 2003
Does anyone have the lyrics for the song 'Kanna.. Karumai nirakk kanna.."? If so can u pls. send to harinar@hotmail.com

---
List all pages of this thread
---
Back to the Forum
Post comments