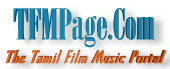 <!- ad ->
<!- Google search box ->

Can Someone give the meaning for these
Kannadhasan lines?

Topic started by Sathiya Keerthi (@ liberty.nus.edu.sg) on Tue Jul 22 03:31:54 EDT 1997.
All times in EDT +9:30 for IST.

---
Responses:
From: Sathiya Keerthi (@ liberty.nus.edu.sg) on: Tue Jul 22 03:39:19 EDT 1997
In the movie Nichaya Thamboolam, there is a
song sung by P Susheela, MD: mellisai mannargal,
and written by Kannadhasan which goes as:

Netriyile oru kungumap pottu then pole
kattiya koondhalil malligai mottu meen pole
vettiya maampazha kottaiyil seydha poo pole
thottadhum kaiyil ottudhu vannam paal pole

Indha kadaisi 2 varigalil kavinjar enna solluraar
endru yaaraavadhu sollungalen. Silar solraanga,
adhu "kottai" illai, but "katti" endru.
Eppadi iruppinum, enakku meaning puriyalai.
Thamizh experts: please help.

From: Guru (@ proxy.unicentre.edu.au) on: Tue Jul 22 21:22:02 EDT 1997
Sathiya,

In what pictorial context is this passage sung? I'm no Tamizh expert but from my first hand observation of these words, I feel that it describes the sensations that the man feels about a woman he's romancing...

"Netriyile Oru Kungumma Pottu Then Pole"
Describing how the powdered kungummam becomes viscous (relating it to the viscosity of honey) when it mixes with sweat?

"Kattiya Koonthalil Malligai Mottu Meen Pole"
In the 'struggle' to avoid 'facial' contact, the random movement of the female's head shakes the 'malligai mottukal' tied to the koonthal. Could this relating to how the flowers on the head seems like a bunch of fishes leaping about when out of water?

"Vettiya maampazha kottaiyil seiytha poo pole"
Although the outer shell of the mango seed is hard, its interior (epicardum) is soft but firm..could this be in comparison to the 'menmaiyagha' supple condition of the female body at a man's touch?


Thottathum kaiyil ottuthu vannam paal pole"
Vannam ? I don't konw this word. Explain!




From: Sathiya Keerthi (@ liberty.nus.edu.sg) on: Tue Jul 22 21:35:58 EDT 1997
Guru:

Thanks for your interpretation. But in the movie
the song is sung by a college girl together with
her friends when they go for a picnic. I am sure
this will cause changes to your interpretation.
"Vannam" means "colour". Here is the full song:

netriyilE oru kungumap pottu thEn pOlE
kattiya kUndhalil malligai mottu meen pOlE
vettiya maampazha kottai(katti?)-yil seydha poo pOlE
thottadhum kaiyil ottudhu vannam paal pOlE
(netriyilE)

kannip paruvam thuLLum azhagE aanandham
inbak kalaiyum sugamum peNmaiyilEdhaan aarambam
(netriyilE)

baaram niraindha ulagai seydhavan samsaaram
thaaram enbavaL illara vaazhvin aadhaaram
(netriyilE)

From: Guru (@ proxy.unicentre.edu.au) on: Tue Jul 22 22:36:37 EDT 1997
Sathiya...

Boy! Seems like I'm way off course on this one. Rombo sexual mood-uku deviate penditen!
But the first three lines justifies my interpretation that the body is involved in some kind of physical activity that brings about these conditions (kungummam thaen pole & malligai mottukal meen pole). The third verse too was probably the girl self-describing her vanity, comparing it to the suppleness of a flower made out of the soft but firm epicardum of the mango seed(?). I don't seem to understand what 'katti' has to do here. Its improbable that it would have been mispronounced during the recording of this song. "Thottathum kaiyil ottuthu vannam paal pole"
The layer of sweat mixed with the coloured kungummam contrasting over the 'milk white' like face of the heroine(I'm sure the heroine wasn't of our Gandhimathi's skin color.) Could he be relating it to her touching the fair face and wiping off the layer of 'coloured' (vannam) sweat (paal)?

I think the whole passage in question is an extension (signifier) of the main signified statement - "Kanni paruvam thullum azhage aanantham" (The happiness in looking at the sophisticatedness(?) and gentleness when young girls are 'thulli-thulli' viliaiyaadaran-ing in the field, on the beach or wherever the picnic was taking place).



From: Krishan Iyer Balaji (@ dnai-207-181-203-146.cust.dnai.com) on: Tue Jan 18 15:17:21 EST 2000
Hi friends.

Intha padalukku, Nan yenakku therinchabadi vivram
solren.

Kadhalan kadhali-yoda mukattha parthu paduran.
Aval mukam alikal nirambia kulathil-ulla poo mathiri.

Aval mukamakiya malaril then kudikka vandha vandu pola aval kankal irandum irukkinrana.Vandu moikkum then pola aval kunkuma pottu.

Aval alikal ponga kundhalis sikkia meen pola mallikai malarkal ullana.

Vettia mampazha kottaien niram pal ponra venmai.
Mampazha kotai thottal venmai kail ottum athu pola
aval mukatthai thottal kaiel venmai(probably muka powder) mattrum vasani ottukirathu

Ebbadi irukkalam yena ninaikkenren



From: paalai (@ 203.197.130.166) on: Mon Aug 7 22:57:03 EDT 2000
hey friends,
A very interesting discussion.enakku therindha chinna interpretation..."vettiya" maankottai seems to be the point of doubt.I think the poet meant the practical cutting of the hard outer covering of the seed to reach the soft and supple inner portion.if you dont cut the outer barrier,you may never see the inner beauty.He might have chosen the word for rhyme too.I dont think it holds a mystery .It seems simple enough for me.

From: RAJ, KUALA LUMPUR, MALAYSIA (@ 202.188.195.87) on: Thu Nov 23 23:16:18 EST 2000
I am a dire-hard fan of Kaviarasu Kannadasan. His lyrics are masterpieces so much so that the present set of lyricists are merely attempting to make cosmetic changes to his works and pass them off as theirs.

Until recently I had assumed that the song 'bhoojiathukkulle oru rajayathai aandrukondu puriyammale irrupan oruvan avanai purinthu kondaal avan than iraivan'was related to the mind.I was wrong as rightly pointed out to me by another Kannadhasan fan.When I knew the actual meaning my admiration for this king of poets grew even further. It is scientific in its essence. Before I reveal could anyone out there care to give their interpretation?



From: Soundar (@ 38.14.58.249) on: Fri May 25 14:34:11 EDT 2001
Does anyone know the movie titles and where I can download old tamil songs

song1: hey mera dilruba , hey mera divana(or some such start) the actors in the sceen are Muthuraman and Jayalitha

song2: parasivan kazhuthilirunthu pambu ...
(is this suriyagandhi?) then music india online does not have it..any other place?

From: sathiyamani (@ 164.100.97.6) on: Wed Sep 26 04:17:57 EDT 2001
that also in the same movie

From: geetha (@ 202.54.87.147) on: Fri Oct 19 06:22:35 EDT 2001
Here Poojya means globe

From: oru thamizan (@ 213.42.2.13) on: Mon Jan 5 15:58:19 EST 2004
Dear Friends,

vEroru valaith thadaththil 'veLLith thirai ilakkiyangaL' enum thalaippil oru thread nadanthu kondirukkiRadhu. adhil Kannadasanin pala paadalgaL nangu alasap padukinRana.
You can try that http://www.forumhub.com/poems/1218.01.30.08.html

From: Emma Krantz (@ 198.237.134.190) on: Thu May 27 13:48:24 EDT 2004
The site is so stupid!!!!!!!!!!!!!!!!!!!!!!!!!!!!!!!!!!!!!!!!!!!!!!!!!!!!!!!!!!!!!!!!!!!!!!!!!!!!!!What were you thinking?

---
List all pages of this thread
---
Back to the Forum
Post comments