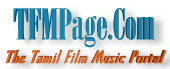 <!- ad ->
<!- Google search box ->




A KJY Retrospective


KJY in statistics

Topic started by TFMPG (@ nscs44p3.remote.umass.edu) on Sat Jan 8 00:13:48 EST 2000.
All times in EST +10:30 for IST.


A person of KJY's stature cannot be reduced to mere statistics. But they certainly help in understanding the magnitude of his contribution.

How many tamil movies has he sung in?
How many awards has he recieved?
How many different languages has he tried his hand at?
How many actors has he sung for?
How many people has he sung with?

There are many more questions that people will like to know the answer to. Lets try to supply the relevant statistics about this great singer.

We will compile these discussions and make them part of the K. J. Yesudas information page in TFMP.
---
Responses:
From: GV (@ d236-fx101h1-lond-pdi.attcanada.net) on: Wed Jan 19 23:59:29 EST 2000
sk: I have never done the RA encoding before:-)) Give me some time, I'll try.


From: sk (@ harvest.ucar.edu) on: Thu Jan 20 04:54:02 EST 2000
GK:

No problem. Don't worry about it.

From: GV (@ d226-fx101h1-lond-pdi.attcanada.net) on: Thu Jan 20 08:14:25 EST 2000
More movies:

G:

Gopura Vaasaliley

Gowri Manohari

Guna

H:

Hello, Yaar Pesuthu

I:

Idhayam

Idhaya Maalai

Ilamai Kaalangal

Ilamai Kolam

Ilamai Oonjal Aaduthu

Imayam

Ini Oru Suthandhiram

Indru Pol Endrum Vaazhka

Ithu Namma Aalu

Ithu Namma Boomi

J:

Janani

Jeeva Nadi

Jothi Malai

K:

Kaadhalikka Neramillai

Kaadhal Kiligal

Kaaviri Maan

Kalaignan

Kanmaniye Pesu

Kanney Kaniyamudhey

Kannukkoru Vannakkili

Kan Simattum Neram

Karpoora Mullai

Karumbu

Karumbu Vil

Keladi Kanmani

Ketti Melam

Kili Petchu Ketka Vaa

Koyil Mani Osai

Koyil Pura

Kulirkaala Meghangal

....To be continued.

From: M (@ morrison.matrox.com) on: Thu Jan 20 14:01:41 EST 2000
GV:
B: Bandham

From: M (@ morrison.matrox.com) on: Thu Jan 20 14:08:57 EST 2000
J: Jaadhi Pookal

From: M (@ morrison.matrox.com) on: Thu Jan 20 14:09:54 EST 2000
K: Kaalaiyum neeyey Maalaiyum Neeyey

From: GV (@ d111-fx101h2-lond-pdi.attcanada.net) on: Thu Jan 20 23:38:34 EST 2000
Mano:

Thank you for adding to the list.

Continuing with the list:

M:

Maalai Soodavaa

Maamiyaar Veedu

Madurai Meeta Sundara Pandyan

Madhana Maaligai

Malainaattu Mangai

Malargaley Malarungal

Manathil Urudhi Vendum

Manidhan

Manidhanin Marupakkam

Manidhaa Thirumbi Paar

Manmadha Leelai

Mannan

Mannukkul Vairam

Maragatha Veenai

Marupadiyum

Mayangugiraal Oru Maadhu

Mazhai Chaaral

Meenava Nanban

Meendum Kokila

Meera

Megham Karuththirukku

Mogham-30 Varusham

Moodupani

Moonraam Pirai

Moonrezhuththil En Moochirukku

Moonraam Manithargal

Mouna Geethangal

Mudhalaali Amma

Mudhal Kural

Mullum Malarum

....To be continued.


From: M (@ morrison.matrox.com) on: Fri Jan 21 09:30:50 EST 2000
D: Dharma Pathini

I:
Iniya Raaja

K:
KIzhaku aapirikaavil Sheela
Kavithai Paada Neramillai


From: GV (@ d47-fx101h2-lond-pdi.attcanada.net) on: Sat Jan 22 00:39:59 EST 2000
Thanks again, M.

More movies:

N:

Naadodi Kaadhal

Naalai Namadhey

Naalellaam Pournami

Naangal Puthiyavargal

Naan Vaazhavaippaen

Nalla Penmani

Nallavanukku Nallavan

Namma Ooru Ponnaaththaa

Natpu

Needhikku Thalai Vanangu

Needhiyin Marupakkam

Neela Malargal

Neengal Kaettavai

Nee Paadhi Naan Paadhi

Nee Siriththaal Deepaavali

Nee Thaanaa Andha Kuyil

Neram Nallaa Irukku

Netrikkann

Nilavu Suduvathillai

Ninaikka Therinja Manamey

Ninaivil Oru Malar

Niyaayangal Jayikkattumey

Niyaaya Thiraasu

O:

Oadangal

Oomai Vizhigal

Oorellaam Un Paattu

Oorukku Uzhaippavan

Ooththaappu Kan Simattugirathu

Orey Oru Graamaththiley

Orey Vaanam Orey Bhoomi

Oru Kaithiyin Diary

Oru Koyil Iru Deepangal

Oru Kudumbaththin Kathai

OWU Thaayin Sabatham

Oruvar Vaazhum Aalayam




From: GV (@ d47-fx101h2-lond-pdi.attcanada.net) on: Sat Jan 22 00:42:38 EST 2000
Correction:

"Oru Thaayin Sabatham"

From: GV (@ d58-fx101h2-lond-pdi.attcanada.net) on: Sat Jan 22 10:26:37 EST 2000
P:

Paadaatha Thaeneegal

Paasakkadal

Paasa Paravaigal

Paattaali Magan

Paaymara Kappal

Pallaandu Vaazhga

Paruva Mazhai

Payanam

Periya Veettu Pannakkaaran

Perum Pugazhum

Perum Pulli

Pillaikkaaga

Pookkal Vidum Thoothu

Poonthotta Kaavalkkaaran

Poovey Poo Choodavaa

Poovizhi Raja

Poovizhi Vaasaliley

Priya

Pular Visaaranai

Punitha Anthoniyaar

Puththam Puthu Payanam

Puthiya Paathai

Puthiya Swarangal

Puthiyavan

Puthu Kavithai

Puthumai Penn

Puthu Manidhan

Puthu Vasantham

Puthu Vayal

Puthu Yugam

....To be continued.





From: M (@ morrison.matrox.com) on: Tue Jan 25 15:12:16 EST 2000
N: Nee oru maharaani
O: Oru kodiyil Iru Malarkal

From: GV (@ d242-fx101h1-lond-pdi.attcanada.net) on: Wed Jan 26 00:00:21 EST 2000
More KJY movies:

R:

Raasaaththi Kalyanam

Rail Snegham

Raja Chinna Roja

Raja Kaiyey Vachaal

Raja Paarvai

Rajarishi

Rasigan Oru Rasigai

Rettai Vaal Kuruvi


From: GV (@ d15-fx101h2-lond-pdi.attcanada.net) on: Wed Jan 26 18:26:52 EST 2000
S:

Samsaara Sangeetham

Sandhana Kaatru

Sanghu Pushpangal

Sattaththin Thirappu Vizha

Shankar Guru

Shenbhaga Thottam

Sigappu Malargal

Sigappu Malli

Sigappu Thaali

Sigaram

Silambu

Sindhubhairavi

Sollaathey Yaarum Kettaal

Swami Ayyappa



From: GV (@ d200-fx101h1-lond-pdi.attcanada.net) on: Thu Jan 27 09:06:53 EST 2000
S:

Sri Raghavendra

T:

Thaali Dhaanam

Thaali Kattiya Raasa

Thaayey Neeyey Thunai

Thaayikku Oru Thaalaattu

Thaay Mel Aanai

Thaay Veettu Seethanam

Thambi Thangakkambi

Thanga Kalasam

Thangaththiley Vairam

Thangaththin Thangam

Thennamgeethu

Thenraley Ennai Thodu

Then Sindhum Neram

Thiraiyil Sila Raagangal

Thirumathy Oru Vegumathy

Thool Parakkudhu

Thooral Ninnu Pochu

Thottathellaam Ponnaagum

Thrisoolam

Thulaabaaram

Tick Tick Tick

From: M (@ morrison.matrox.com) on: Thu Jan 27 13:59:24 EST 2000
GV: not Thirail sila Raagangal
it should be Siraiyil Sila Raagangal

S: Solla thudikuthu Manasu

S: Sirai (?????)
song: Odaiyina Nallodai olinchirukka poonjolai
thanga pasum kilikku sandhu pottu vaikka venum thaanna thaaney thanaa....

Raasathi rosa poovey pooveey vetkam vetkam...


From: RR (@ proxy.krdl.org.sg) on: Thu Jan 27 22:19:09 EST 2000
M: 'odayinna nallodai' from raasaathi rosaakkili

From: GV (@ d167-fx101h1-lond-pdi.attcanada.net) on: Fri Jan 28 08:36:36 EST 2000
Thank you, M, for the correction. More movies:

U:

Ulagam Sutrum Vaaliban

Unakkaaga Oru Roja

Un Kannil Neer Vazhindhaal

Unnai Solli Kutramillai

Unnai Vaazhthi Paadugiren

Unnaal Mudiyum Thambi

Unnidaththil Naan

Uravu Kaaththa Kili

Uravu Solla Oruvan

Urimai Kural

Uyarndha Ullam

Uyirullavarai Usha

Uzhaikkum Karangal

Uzhaiththu Vaazha Vendum

Uzhaivan

From: GV (@ d29-fx101h2-lond-pdi.attcanada.net) on: Fri Jan 28 17:35:13 EST 2000
V:

Vaa Arugil Vaa

Vaasalil Oru Vennilaa

Vaazhvey Maayam

Vaazhvu En Pakkam

Valathu Kaalai Eduththu Vaiththu Vaa

Valayal Saththam

Vanna Vanna Pookkal

Varavu Nalla Uravu

Vasantha Kaala Paravai

Vasanthi

Vayasu Ponnu

Veeraangana

Velichcham

Vetri Mel Vetri

Vettaiyal Vilaiyaadu

Vilangu

From: GV (@ d174-fx101h1-lond-pdi.attcanada.net) on: Sat Jan 29 11:18:02 EST 2000
Recent additions to my KJY-TFM collection include songs from the following movies:

Adhipathi

Bharathi Kannamma

Chinna Malargal

Eera Vizhi Kaaviyangal

Idhaya Vaasal

Idhu Eppadi Irukkudhu

Indian

Ippadikku Kaadhal

Isai Paadum Thenral

Kaadhalukku Mariyaadhai

Kaadhal Vidudhalai

Kaaviya Thalaivan

Kannukkul Nilavi

Maindhan

Manaivi Solley Mandhiram

Mannukku Mariyaadhai

Mudhal Paadal

Mudhal Udhayam

Naalai Unadhu Naal

Namma Annaachi

Niyaayam

Paattu Vaathiyaar

Pattaththu Raani

Poovey Sempoovey

Pudhuppatti Ponnaaththa

Rajakumaran

Saadhu

Sethupathi, IPS

Sindhu Nadhi Poo

Solla Thudukkudhu Manasu

Sooriya Namaskaaram

Varusham-18

Veettila Viseshangal

Ungal Anbu Thangachchi

Unnai Naan Sandhithen

From: GV (@ d174-fx101h1-lond-pdi.attcanada.net) on: Sat Jan 29 11:21:14 EST 2000
Typo:

"Kannukkul Nilavu" and "Solla Thudikkudhu Manasu")

From: M (@ morrison.matrox.com) on: Mon Jan 31 11:45:25 EST 2000
new additions:
Naalai Engal Kalyaanam

---
List all pages of this thread
Post comments