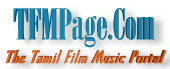 <!- ad ->
<!- Google search box ->

Kannadhaasan Vs. Vairamuthu TFM Symposium Topic 7:Vingyaana/Naveena Karuthoottum Paadalgal

Topic started by Udhaya (@ 205.218.142.217) on Thu Aug 20 21:25:09 EDT 1998.
All times in EST +10:30 for IST.


For a good understanding of how to approach this ongoing symposium, please refer to the thread, "Kannadhaasan
Vs. Vairamuthu TFM Symposium Topic 1:Iyarkai Varnanai" before you post. Let me reiterate that this is not a patti mandram, but a research symposium.
Please show TFM examples of both poets with regards to just their Vingyaana/Naveena Karuthoottum Paadalgal for this thread.
Please provide the name of the song whose lines you excerpt and the name of the movie if known. Here are the symposium categories, the bold topics are yet to be discussed:
1)Iyarkai Varnanai
2)Kaadhal Paadalgal
3)Thaththuva Paadalgal
4)Vaarthai Prayoagam
5)Nagaichchuvai Paadalgal
6)Samudhaaya Seerthirutha / Puratchi Paadalgal
7)Vingyaana/Naveena Karuthoottum Paadalgal
8)Ilakkiya Moolam Ulla Paadalgal
9)Kadhaikku Porundhiya Paadalgal(situational songs)
10)Kavidhai Milekarkal (Poetic Milestones that the poets will be remembered by!)
---
Responses:
From: Raghavan (@ 166.37.105.63) on: Tue Aug 25 17:29:22 EDT 1998
Udhaya:
Could you translate into english as to what Vingyaana/Naveena Karuthoottum Paadalgal means? If you could elucidate in some detail, may be I can think of some songs.

Thanks

From: Prakash Balakrishnan (@ gate2.ca.us.ibm.com) on: Tue Aug 25 17:35:48 EDT 1998
Udhaya,

Summa en paiyanukkaga MGR paattu pottEn. Appoththan paattai 'dabba' adichchen. :):):):))

From: Prakash Balakrishnan (@ gate2.ca.us.ibm.com) on: Tue Aug 25 17:36:36 EDT 1998
Udhaya,

Summa en paiyanukkaga MGR paattu pottEn. Appoththan paattai 'dabba' adichchen. :):):):))


From: Udhaya (@ 205.218.142.217) on: Tue Aug 25 17:58:03 EDT 1998
Pagalavan, I don't know what else to add to explain this category. Yours and others' contributions here have been perfect for this category. As far as lyric writing is concerned, this category is just another gauge to indicate the depth and breadth of knowledge that a poet can bring to a limited medium such as film songs. I agree this category seems somewhat abstract, but you are certainly on the right track. Keep coming up with examples, if they seem unsuitable we will discuss them.

From: Raghavan_NOT_Pagalavan (@ 202.54.37.18) on: Tue Aug 25 23:14:09 EDT 1998
Udhaya:

I think you mistook Raghavan as Pagalavan.
Raghavan is someone new to this thread who is
unclear about the thread's topic.

From: Reva (@ 202.54.37.18) on: Wed Aug 26 08:33:24 EDT 1998
In the new movie, "Nilave Vaa", VM has penned a
song which starts as...

chandhira maNdalaththai suththam seydhu
saakaigaL veetru vaippOm

Does anyone have full details?

From: Udhaya (@ 205.218.142.217) on: Fri Aug 28 16:01:31 EDT 1998
Song: En Manathai Kollai; Film: Kallori Vaasal
I'm pretty sure VM wrote this, someone verify, (where's Ramki these days?)
The following song uses internal organs for a very clever and creative wordplay:
moochu vaanga unaithanae
ingu thinam naadum indha nurai eeral
nee illaatha sila naeram indha nurai eeral oru kurai eeral

From: Bhaskar (@ carefree.proxy.lucent.com) on: Sat Aug 29 16:44:52 EDT 1998
Vairamuthu Ratchagan padathula nilavai niraya
ubayogithu paatunga ezhudhi irukkaar:

Song : Kanavaa ? illai kaattraaa ?

Ippadi unnai endhi kondu Indira logam poi vidavaa
Vazhiyill konjam vali eduthaalum ...
Sandira tharaiyil paai idavaa

Nilavilum porul edai izhakkum
Neerilum porul edai izhakkum
Kaadhallil kooda edai izhakkum
Indru kandaen adi Adhai kandu kondaen adi


Also in another song:


Chandhiranai thottadhu yaar armstrongaa ? :-))




From: Ramki (@ pm062-28.spindler.wmich.edu) on: Sat Aug 29 19:46:59 EDT 1998
Udhaya im here:))'en manadhai 'is by Vaali and not VM:))Simply bcoz vaali writes 'jannal' and 'minnal' we shouldnt think its vmuthu:)))Vaali,as i said before,can write like kannadasan or vairamuthu

From: Gokul (@ dd22-009.dub.compuserve.com) on: Sat Aug 29 22:16:26 EDT 1998
Ramki: Well said about vAli:-) I too have felt the same in many instances. While his older songs are examples for similarities with KD, his recent songs like "hello Doctor" (kAdhal Desham Excellent
song) and "chikku bukku rayilE" (Gentleman, A well written song again, IMO) are examples for the current style. Guess adaptability is secret of his success:-)
[Now If I said the same thing about dEva it will sound different..Right!.. :-))]

Udhaya :Ofcourse, Sorry for the digression..:-))

From: Udhaya (@ 205.218.142.217) on: Tue Sep 8 15:16:04 EDT 1998
After a full week-long break from TFM, I'm back and so is this symposium. I would like to start the summations for this topic.
The strength of Kannadhaasan is that his songs don't usually stick to one idea, category. Like the "Vandha Naal" song where scientific inventions are cited to contrast the inadequacy in the human mind despite all the amazing inventions. Kannadhaasan does this in most of the songs cited here. While every Kannadhaasan song cited here is a gem, I don't believe he was predisposed to vingyaana/naveena sindhanaigal in TFM lyrics. Whether science and new wave ideas are relevant for TFM lyrics is not at issue here; which poet used it well in TFM lyrics is the criteria. Given that criteria, I think VM comes out ahead of Kannadhaasan in this topic. For VM, scientific knowledge, and juxtaposition of those details onto unlikely songs is commonplace as evident from the examples shown here. Please give your summations and reasons for the poet you choose as the best exponent of Vingyaana/Naveena Karuthoottum Paadalgal. I will see you guys at the
"Kannadhaasan
Vs. Vairamuthu TFM Symposium Topic 8:Ilakkiya Moolam Ulla Paadalgal"

From: Kanchana (@ spider-te051.proxy.aol.com) on: Wed Sep 9 10:07:32 EDT 1998
I tend to agree with Udhaya in this particular subtopic. VM does seem to come ahead of Kannadhasan. Having read most of the non-TFM works of both the lyricists, it seems that Kannadhasan's personal preference/ leaning was toward what is referred to as "meignAnam" while VM is clearly a "vignAnam" kind of a guy. The reflection of their personal leanings in their verses is inevitable, and seems to push VM ahead here.

---
List all pages of this thread
Post comments