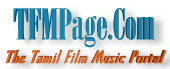 <!- ad ->
<!- Google search box ->

Kannadasanin padaippugal

Topic started by Ramki (@ proxy7.cyberway.com.sg) on Sat Jun 21 00:14:12 EDT 1997.
All times in EDT +9:30 for IST.

---
Responses:
From: cram (@ 206.103.12.102) on: Fri Feb 19 10:27:13 EST 1999
there's a song in anubavi raja anubavi, that went on to become a national rage:
"muththukkuLikka vaareegaLa
moochchai adaikka vaaareegaLa
sippi eduppOma mamamama
ammaLukkum sontham illaiyo"

using the metaphor of sippi and muthu, to convey sexual urges and intentions, is a time-tested tool of not just kannadaasan, but even among certain hindi lyricists.
we see this in kannadaasan's other songs, like "sippi irukkuthu muththum irukkudhu", though here the idea is more romantic than erotic, and "aazhakkadalil thEdiya muththu
aasai sugaththil thOndriya muththu".

From: rameshb (@ interlock.itthartford.com) on: Fri Feb 19 11:52:07 EST 1999
I agree to a certain extent that "Azhakadalil thEdiya muththu" has ambiguous connotations in it. The song goes like neenthinOm nOndinOm unnai edukka in the middle which clearly shows the significance. But the song "muththu kuLikka vARiyaLa" is free from guile. So is "sippi irukkuthu". One has to purpoely put the words together and look for a second meaning except for the first couple of lines.

From: S (@ www.comsysportland.com) on: Fri Feb 19 12:34:49 EST 1999
MuthukuLikka sencond stanza goes like this

"Naalam NaaLumillai ippa vantu nammaLai"
"Koopittathu ennadiyamma"
Ofcourse it is subtle...but still

From: rameshb (@ interlock.itthartford.com) on: Fri Feb 19 13:34:43 EST 1999
'Ennadiyamma" makes me guess that these lines are by TMS. The hero seems to be keeping a count/ on 'nAL' so accurately and earnestly to be health conscious. I wonder what kavinger is trying to convey here? Is he explicitly(without any hesitation) saying women are more feeble minded than men !!!;-))

From: rameshb (@ interlock.itthartford.com) on: Fri Feb 19 13:35:45 EST 1999
closing
bold!

From: rameshb (@ interlock.itthartford.com) on: Fri Feb 19 13:36:43 EST 1999
closing
bold again!

From: Bhoori (@ synvpn.synplicity.com) on: Wed Feb 24 14:00:54 EST 1999
I wanted to post the foll. in the Kavi Chakravarthi thread but couldnt. There was no editbox!

Ravi: I opened a separate thread for this because the issue of VM calling Kaviarasu has been an irritant to lot of people including me. I was amused to find the same thing in Kannadasan and wanted to highlight this.

Manisekaran: The issue is NOT about the Kaviarasu title. Its about the tendency to over-glorify. If VM calling himself as Kaviarasu is in bad taste, so is Kannadasan calling himself Kavi Chakravarthi! The only thing in favor of Kannadasan is he didnt insist and propagandize this title.


I beleive that titles are meaningless. I dont think anybody called Kamban Kavi Chakravarthi during his lifetime. Valluvar, Ilango, Bharathi didnt hv titles. ( Mahakavi was definitely not his title when he was alive. ) Kannadasans place in TFM and in all our hearts is unquestioned whether his title is Kaviarasu or Kavi Chakravarthi. I am trying to point out that such tendencies towards self-aggrandizement existed even in Kannadasan.

From: Bhoori (@ synvpn.synplicity.com) on: Wed Feb 24 14:04:52 EST 1999
SM: I am not trying to compare Kannadasan and VM as lyricists - rather, their view/wishes of their rankings as poets. Obviously for VM, Kannadasan is the milestone. Kannadasan sets his sights even higher!

From: kannadasan (@ ) on: Thu Aug 3 12:24:59 EDT 2000
hai vairamuthu can never reach nor touch kannadasan's foot.he is a like a scapegoat.

From: Varman001 (@ 154.11.82.186) on: Mon Aug 7 17:04:53 EDT 2000
I agree that Vairamuthu can never get even close to kannadhasan's poems/lyrics.

Kannadhasan had a very unique point of view of the world. He didn't give his poetic talents for any threats or pressure.

So please don't compare Kannadhasan with inconsistent(or rather a shallow poet) Vairamuthu.

From: alphonse (@ 209.246.109.150) on: Sun Oct 29 16:36:46 EST 2000
I am a christian by choice and belief. I have a point to admire in Kannadasan's Indological writings - simplicity. My comments are about his Arthamulla Indumatham in multiple volumes. While most scholarly writers create cumbersome commentaries, here was Kannadasan, who thought in simple idioms and expressed in light verses. Prose and poetry did not require a caste of eruditness in Kannadasan. What an existential philosopher can strain to say in 60 pages, Kannadhasan could spell in 6 words: Veedu Varai Uravu, Veedhi Varai Manaivi..........He was a people's poet.

From: Kumaran (@ 24.68.42.81) on: Wed Jun 6 15:14:59 EDT 2001
I have an important question that warrants an urgent reply - Was Kannadhasan the lyricist for the song "Ennathaan nadakkum nadakattume" from the movie Panathottam?

I would greatly appreciate if you could e-mail your responses.

Thanks a lot
Kumaran

From: blackmafia (@ 202.75.160.180) on: Tue Jul 10 23:26:33 EDT 2001
avar kadal nan verum kulattil ulla tanni

From: vijayen (@ 219.95.122.41) on: Thu Mar 18 11:24:51 EST 2004
i needs avandan iraivan movie's song's lyric :pojiyattukkul oru rajiyattai anddukonnu.....plz

From: Rooban (@ 210.195.6.6) on: Thu Jul 8 06:18:12 EDT 2004
Kannadasan`s last song was from the film Moondram Pirai.Does anyone have the lyrics for Kanne Kalaimane song?Please send it to me because its for someone special. Thank you.

From: ArunPrasath (@ 210.18.107.2) on: Wed Aug 18 08:47:58 EDT 2004
I am reading Kannadasan books for the 4 years. from there, my life changed a lot under with special characteristics.If he is alive i just pray him.

I love him a lot.

---
List all pages of this thread
---
Back to the Forum
Post comments