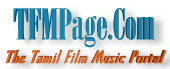 <!- ad ->
<!- Google search box ->

No one has replaced Kannadasan

Topic started by Amma's Thambee (@ 202.54.43.144) on Fri Jun 19 02:45:30 EDT 1998.
All times in EST +10:30 for IST.


Kannadasan has written songs which profound meanings and a moral in every song.
ever since his death, there has been no one to take his mantle.His every song conveyed a meaning, something could be learnt from his lyrics.
But the situation has changed a lot now.
could this be attributed that the lyricists now are incapable of wriiting such songs or its the audience who dont want to hear those kind of lyrics?
could this be attributed to western influence on Indian Culture?
Hey wake up guys! What happend to Tamil culture, culture of India?
I would like to hear the responses from the makkal of tfm.
---
Responses:
From: ash (@ 12.5.196.254) on: Thu Dec 6 19:15:57 EST 2001
Kannadasan wrote songs for the movies, for the stories and situations Unlike people who now write for words.
"Varththaigalukku Paadal Ezhuthavillai".
Beyond all that, he preferred to be called as Kannadasan rather than "KAVIGNAR" or "KAVIAYARSU" or "KAVIPPERARASU" unlike the so called Lyricists of today

From: SHIVANANTHAM.K (@ ) on: Thu Mar 7 01:12:56 EST 2002
haloo

EVERYONE COMPARING THE FEATURES OF VM&KANNA DASAN
VALLI IS ONE STEP AHEAD OF KD IN NO'S& LINES.
KD(KANNA DASAN)IS THA KING OF SONGS,BUT VAALI IS THE EMPEROR OF SONGS.
U BELIEVE IT OR NOT VAALI IS THE MAJESTIC WRITER.

"NO ONE CAN NEAR THE SHADOW OF VAALI"

From: raj (@ 198.151.230.253) on: Thu Mar 7 01:23:12 EST 2002
exactly SHIVANANTHAM.
Once MSV said KD&Vaali Are his 2 eyes..

So Vaali in the KD regime itself Proved a Lot..
His words were very simple&meaning ful
That's Y he became Pet to MGR
who used him in almost all Films..


From: xyz (@ 128.241.245.34) on: Tue Mar 12 17:45:12 EST 2002
i agree

From: mithra (@ ) on: Tue Oct 29 00:11:21 EST 2002
yes very true no one is going to replace
Kaviyarasu Kanadhasan

From: AZEL (@ ) on: Tue Sep 2 23:06:45 EDT 2003
I NEED SOME MONYE

From: AZEL (@ 192.116.71.26) on: Tue Sep 2 23:09:03 EDT 2003
I NEED SOME MONYE

From: s (@ ) on: Fri Jan 2 11:58:21 EST 2004
Great new website on Chembai:
www.chembai.com" target="_top">http://www.chembai.com">www.chembai.com

From: s (@ 61.11.78.144) on: Fri Jan 2 11:59:02 EST 2004
www.chembai.com

From: Chinna~Patni! (@ 61.95.159.16) on: Fri Jan 2 12:03:47 EST 2004
Historic Thread!!

It has posts made in 98,99,00,01,02,03 and 04 in the same page!! :-)

enna oru arputham!!

From: * (@ 161.114.64.74) on: Fri Jan 2 12:55:26 EST 2004
NASA range discovery, well done C~P! :)

From: C~P (@ 61.95.159.16) on: Fri Jan 2 13:12:21 EST 2004
no partial shading this time...!!!

"ellam unga aasirvaatham"!! :-)

From: oru thamizan (@ 213.42.2.13) on: Mon Jan 5 15:46:21 EST 2004
Dear Friends,

vEroru valaith thadaththil 'veLLith thirai ilakkiyangaL' enum thalaippil oru thread nadanthu kondirukkiRadhu. adhil Kannadasanin pala paadalgaL nangu alasap padukinRana.
You can try that http://www.forumhub.com/poems/1218.01.30.08.html


From: M.j.Sandron (@ ) on: Wed May 5 03:26:33 EDT 2004
Kannadasan can only be replaced by Kannadasan

---
List all pages of this thread
---
Back to the Forum
Post comments