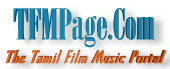 <!- ad ->
<!- Google search box ->

Kannadhaasan Vs. Vairamuthu TFM Symposium Topic 3: Thaththuvap Paadalgal

Topic started by Udhaya (@ 205.218.142.217) on Wed Jul 15 19:13:39 EDT 1998.
All times in EST +10:30 for IST.


For a good understanding of how to approach this ongoing symposium, please refer to the thread, "Kannadhaasan Vs. Vairamuthu TFM Symposium Topic 1:Iyarkai Varnanai" before you post. Let me reiterate that this is not a patti mandram, but
a research symposium.
Please show TFM examples of both poets with regards to just Thaththuvap Paadalgal
for this thread.
---
Responses:
From: Naaz (@ 24.76.127.63) on: Tue Jan 8 23:14:03 EST 2002
Udhaya - this is an interesting topic. Just one simple query: What do you expect to achieve through this symposium? (This is important, I believe, as context and period are great influences in the philosophy/productivity of poets. eg from English Literature would be: Wordsworth/Milton Romantics/Restoration (period))
I look forward to your response.

From: hunter (@ 61.11.74.10) on: Tue Jan 8 23:52:27 EST 2002
writer sujatha says kannadasan is the best.

http://www.ambalam.com/sujatha/2002/january/sujatha06_01.html


From: Naaz (@ 24.76.127.63) on: Tue Jan 8 23:59:54 EST 2002
For starters - we have to recognise that these are "commercial poets" defined by their respective cinematic eras. Their philosophy (if one can call it that) is "situational" (songs in films). This need not necessarily be their "worldview." The comparison also has to take into account the dictates of their particular generation/period. What should be considered then, if a comparison across periods is to work is not so much profundity, but the manipulation/exertion of language - as that is one constant binding commonality. The debate should hence be: Who has mined the depths of the language with more rigor, hence exposing its richness. And not who is better in their "wisdom" (Thathuvam). They are both limited by cinematic proscripts and limitless by the script (language) itself.

From: Saketh@Atlanta (@ 130.207.33.163) on: Thu Jan 10 10:45:49 EST 2002
What about "Punjai undu Nanjai Undu" song from Unnal Mudiyum Thambi?
What about the thathuva paadalgal of Rajini?
- Oruvan Oruvan from Muthu...

From: Udhaya (@ 63.89.188.169) on: Thu Jan 10 12:36:39 EST 2002
Naaz,
It is to compare the work of two poets objectively without resorting to foregone conclusions. Whomever your favorite poet you will be surprised how he stacks up against the other. This is one in a 10-part symposium where both poets were judged on several themes. I don't want to belabor the reason for my endeavor for people who don't even bother to read the introductory passage at the start of the thread. If you don't have the patience to understand a valuable contribution to this forum, at least try not to defile it with your fan-club mentality. Enough is enough.

From: Udhaya (@ 63.89.188.169) on: Thu Jan 10 12:43:19 EST 2002
Naaz,
I must clarify that the you is not directed at you personally but to all who try to wake up this thread and pull it out of its context and exchange ridiculous barbs about either poet.

Guys,
Please, grow up, literature and language are far more important to be subject to one person's influence. If you look at everyone's contribution to the language as a whole, you will end up appreciating the language. If you follow personalities, well, you can start a fan club, but please don't do it here. There are plenty of other stink-worthy threads going on with that intent, go mingle there. This thread was not started with that intent. If you have a scholarly interest in pointing out something either poet did regarding "Thaththuvap PaadalgaL" then write it here, if not, please don't pollute this thread.

From: vijay (@ 208.61.227.242) on: Thu Jan 10 12:53:55 EST 2002
Udhaya, I know that its a slight digression here
but anyways wanted to ask this lyric-related thing

DIGRESSION

I thought amongst the crappily written songs of last year, "Un samayil arayil" overall was an exception. I know that you felt that it was another one of those VM-type formulaic songs, but actually MS pointed out sometime back that it might not be of the same standards of some VM formula songs like ----kku ---azhagu, ----ku----poruppu etc. :-) for example he said the first line had a kind of meaning like, "am I like salt which you use for everything in your life, or like sugar only for specific things?" :-) etc. So I just wanted to know your opinions..

From: Naaz (@ 24.76.127.63) on: Thu Jan 10 13:37:54 EST 2002
Udhaya -
Thanks for the reply. I did bother to read the intro and also looked at the previous thread you recommended. My first question in this thread was prompted by a need for clarity - What is the goal of these collective threads? Do they have publication/live presentations in mind? Is this a random reasearch project - these were my queries. Your first thread does not say anything else except talk of making one KD "fan" see the merits of VM and vice versa. Secondly, you use the word "fan" - I don't.

My second posting here pointed out the fallacies in the "VERSUS" which is part of your title for this thread. VERSUS immediately suggests OPPOSITION or OONTESTING. The title sets up people to take sides. I also tried to voice contextual realities that need to be considered when evaluating these poets (who had tailor-made "philosophies" for film situations). I don't see how these points (which I made) indicate a "foregone conclusion"?
Nowhere in my postings did I betray a "fan club" mentality. Nor did I attempt to "pollute" the thread. While your "YOU" may not have been directed at me personally, it is apparent that it also included me.

Good luck.

From: Udhaya (@ 63.89.188.169) on: Thu Jan 10 13:51:55 EST 2002
Naaz,
There's a related thread going on which was the root of all these symposium threads, "Is Vairamuthu better than Kannadhasan" which became a big issue when it was originally started. A bunch of us wanted to stack up each poet's output in very specific categories to actually do a comparison only to enlighten our perceptions of both poets. Anyway that thread gets revived and the fight gets restaged again and again to no good. The same thing happens to the symposium threads whose aim was to take away fanatic "versus" arguments. But nothing that was done helps stop these arguments. Everytime, a symposium thread is revived, it flares up the arguments again. Your suggestion of looking at the language usage by both was covered in the symposium thread for "Vaarthai prayoagam". Again, I'm not singling you out, but every query about a specific thread without looking at the entire symposium that it belongs to only creates more misconceptions.

I wish the admin will intervene and seal these symposium threads forever.

From: Mr. Observer (@ 64.105.35.147) on: Thu Jan 10 14:30:00 EST 2002
Udhaya, if this thread gets sealed, let it get sealed on a positive note. I had met up with Gandhi Kannadasan (KD's son) in Madras with regards to some articles written by KD on all the music composers he had worked with. When I mentioned to him about this thread, his first reaction was "Oh...the VM vs KD symposium site? I wish I could have contributed to those, myself". Your efforts have not gone waste and I am sure you stood to gain yourself.

From: Naaz (@ 24.76.127.63) on: Thu Jan 10 16:07:31 EST 2002
Maybe you should consider rephrasing the VERSUS in your symposium topic headline. That might be the cause of the "misconceptions." If Appreciation of both the poets is your primary AIM, your symposium title does not need the AGAINST suggestion. How about something on the lines of: Kannadasan/Vairamuthu - Their Genius, Philosophy and WordPlay in Tamil Film Lyrics...NO room for ambiguity.

Thanks.

---
List all pages of this thread
Post comments