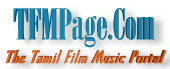 <!- ad ->
<!- Google search box ->

Is Vairamuthu better than Kannadaasan?

Topic started by Prabhar (@ ppp45-216.lvsb.vsnl.net.in) on Thu Jul 2 09:40:00 EDT 1998.
All times in EST +10:30 for IST.


Yes......The greatest joke of the year!
Courtesy: Sivaji Ganesan
Reference: Kungumam weekly.
My opeinon: KD malai yentral VM madu....

---
Responses:
From: MADDY (@ 203.94.218.168) on: Wed Jul 16 22:58:28 EDT 2003
Kannadasan is thr gr8est of them all, even VM will accept it... but dunt put VM down... his major contribution to TFM is ARR's success.....kannadasan has not singlehandedly risen a MD so much...VM lyrics were backbone of ARR's success.... VM also extended the boundaries of tamil to accomodate ARR's tunes in it... i feel even kannadasan wud have been made to write cheap songs if he had been in era of K.S.Ravikumar,selvaraghavan, bharani,bala.....

From: xml (@ 128.148.68.57) on: Thu Jul 17 16:11:10 EDT 2003
I accept that VM is the good lyricst. But don't compare with kannadasan

From: Ayopattikkitchu (@ 24.42.88.25) on: Thu Jul 17 23:05:59 EDT 2003
Comparing Kannadasan with Vairamuthu is like comparing Sward with AK47. Old days many wars were fought with sward, and today AK47 is far superior to Sward. So in my opinion VM is undoubtedly the most talented lyricist in TFM today.

From: Kaviperarasu (@ 162.119.64.110) on: Wed Jul 23 20:08:24 EDT 2003
Hello Guys, this is Kaviperarasu.

ennai kaanadhaasan maathiri saathaarana manithargaLudan oppiduvathu avamaanathirke avamaanam!!!
en kavithaigaL thirukkuraLukke thirukkuraL katru kodukkum.
en otrai paadalai paarijaatha poovin kaathil paadinaal atharku varum dhEva mayakkam.
en otrai paadalai kaatrukku oottinaal athu vErvai mazhaiyil nanaiyum.
en otrail paadalai oru peNN kEttal avaL aintharai maNikkuL kaathal vayappaduvaaL.

"hello hello en kaathalaa, cell phone number nee koorudaa" ennum ennudaiya paaattai pOl vaLLuvar kooda ezhuthiathillai. Ennai pol sila vaarthaigaLai mattum kondu ivvaLavu paadalgaLai yaarum yezhuthiathillai. 5 vaarthaigaLai mattum vaithu ennaal muzhu paadalaiyum ezhutha mudiyum.

inimEl thiruvalluvar or kambar level-kku keezh ennai compare seyyaatheergaL.

Vanakkam,
Kaviperarasu

From: Kaviperarasu (@ 162.119.64.110) on: Wed Jul 23 20:19:54 EDT 2003
oru thirutham:

"Ennai pol sila vaarthaigaLai mattum kondu ivvaLavu paadalgaLai yaarum yezhuthiathillai" enbathai keezhe kurippittathu pOl padikkavum.

verum 25 vaarthaigaLai recycle seithu ivvaLavu paadalgaLai yennai pOl vEru yaarum ezhuthiathillai...

From: srina (@ 61.1.205.207) on: Thu Jul 24 00:39:34 EDT 2003
read this interview of GA, there is a serious discussion on comparing kaviyarasu and kavipperarasu.

http://www.webulagam.com/chat/2000_11/24_chat2.htm

From: KAMAL (@ ) on: Mon Sep 15 10:07:57 EDT 2003
KANNADASAN ORU KADVAL - AVARU URUVAKANA MANISHATHAN VM
VM KANNADASAN POKETALA IRUKIRA PENA

From: C~P (@ 202.9.148.229) on: Mon Sep 15 11:32:14 EDT 2003
KAMAL,
ink yaaru? .. Pa. Vijay??!

are u a malayalee by any chance? ... "POKETALA" ... antha accent-la varuthu! :)

From: Prabhu (@ 156.153.255.126) on: Mon Sep 15 17:17:41 EDT 2003
C~P, sounds more like an Ethiraj 'peter' party to me :)

From: C~P (@ 202.9.180.254) on: Tue Sep 16 12:55:13 EDT 2003
Prabhu,
'peter' illa...'mary'! :)

From: peter (@ ) on: Wed Apr 7 13:25:07 EDT 2004
vairamuthu really writes well. he writes out of life and experience. his contribution to tamil is beyond comparison. he is unique and special in his writing.

From: Logesh (@ ) on: Sun Aug 8 21:12:21 EDT 2004
vairamuthu is the best in his era, and so was Kannadasan. Both of them have had the similar span of growing and grown-up music directors to work with them. Kannadasan cannnot be forgotten now, and similarly, VM will not forgotten in future.

From: Truth (@ 68.89.61.131) on: Tue Aug 10 09:37:43 EDT 2004
fitting reply to the calibre of vairamuhtu and his command of tanglish ~!!!!!

http://www.thatstamil.com/specials/art-culture/poems/kaasi1.html

From: karthik (@ ) on: Sat Sep 25 13:23:00 EDT 2004
this comparison is highly ridiculous.kannadasan was is will be the best forever.his vesatile pen touched all spheres of life viz religion,philosophy,love,humour etc.like thirukural,u can easily quote his poem for any given occassion.this cannot be said in the case of so called kavipararasu vairamuthu.

From: karthik (@ 203.145.187.197) on: Sat Sep 25 13:44:28 EDT 2004
there is no finer points in life not touched by kavingyar kannadasan in his lyrics/poems.there is no parallel in contemporary poets to him who has rendered umpteen number of lyrics on human relationships.this can never be repudiated by anyone including vairamuthu.has vm written one single lyric like 'manidhan enbavan theivam aagalaam' , 'annan ennada' , 'mayakama kalakama'.even kavingyar vaali was said to have been lifted from depression by the lyric 'mayakama'.can u give me one field in life which has not been touched by his brilliant pen?

From: nemo (@ 61.2.225.248) on: Sat Sep 25 16:18:23 EDT 2004
nuclear physics?

From: Ayopattikitchu (@ 69.199.3.230) on: Sat Sep 25 21:45:10 EDT 2004
karthik, have you ever listen to Vairamuthu's song 'yaar yaar sivam, nee naan sivam'. If you have then you can compare this to 'manidhan enbavan theivam aagalaam'. Looks like you haven't listen to Tamil songs in the last 20 years. Vairamuthu has touched every single field in life with his pen. So talk about kavingyar but don't compare him to Vairamuthu.

From: Srinivasan (@ ) on: Fri Dec 10 01:45:11 EST 2004
I just listened to a song by Kannadasa: Ramanin mohanum from Netrikan. In that he says, that he is not Kamban and hence cant measure the love in totality. Vairamuthu on the other hand claims in a song (I forgot the name) that his lines are better than Kamban. This apart Kannadasan is not just poet. He realised his life much in depth than anyone in our cine field. Vairamuthu is leading writer contemporary writers but he is nowhere near Kannadasn. Vairamuthu is good in handling and mixing words. He had shown glimpses of becoming great poet but he never got there unlike Kannadasan.

From: zz (@ 203.145.176.177) on: Fri Dec 10 06:43:52 EST 2004
Hey Srini,
Don't mix film song words with actual expressions of the poets..

What KD wrote was for a song and for a situation.

What you allege VM had written(you did not provide the correct source....that itself is wrong) might be for some song and some other situation. Don't get confused.

From: Srinivasan (@ 67.85.197.175) on: Sun Dec 12 12:29:02 EST 2004
I understand the film songs are meant for situaion in the films. Most of the time, song writers express (and have freedom to do so..) their self either directly or indirectly. Songs do reflect the personality of the writer over and above the film situations, director and popular actore influences. Of course, there are some exceptions. I am pretty sure that the directors wont have asked them to mention Kamban or somebody.

From: j (@ 61.1.202.19) on: Sun Dec 12 13:35:59 EST 2004
Kannadasan cannot be compared with anynody because in his time, he had to handle so much pressure to give good, clean lyrics with care. Vairamuthu is also good, but nobody criticizes lyrics as much today as was the case in Kannadasan's era.

From: Ayopattikitchu (@ 69.199.2.190) on: Mon Dec 13 01:17:05 EST 2004
Kanadasan had the same pressure not to give good, clean lyrics when IR dominated TFM. In fact Kanadasan wrote over 1000 songs for IR, but how many of them can be remembered today, compared to MSV or KVM. Lyricist can be criticized for giving good, clean lyrics these days. Naturally some will criticize Vairamuthu for grabbing 5 times National Award!!

From: dinesh (@ 60.48.84.248) on: Mon Dec 13 04:20:52 EST 2004
VM lyrics were backbone of ARR's success.... VM also extended the boundaries of tamil to accomodate ARR's tunes in it...

------- yea,kadhal desam,boys,kadhalar dhinam were all by vairamuthu,and those become super duper hit...'wow....thanks vairamuthu'

its actually ARR who gave VM a break with Roja..mind u..mots of his national award r with the songs composed by ARR...also arr got the best md for the best md the same year...(except 1)..but still,arr manage to get 1 national awad withouth VM...so..keep ur GAPS closed!

---
List all pages of this thread
---
Back to the Forum
Post comments