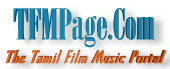 <!- ad ->
<!- Google search box ->

Kannadhaasan Vs. Vairamuthu TFM Symposium Topic 1: Iyarkai Varnanai

Topic started by Udhaya (@ 205.218.142.217) on Mon Jul 6 13:36:50 EDT 1998.
All times in EST +10:30 for IST.


In comparing Kannadhaasan and Vairamuthu objectively, why don't we all prove to ourselves that we don't need to take sides with a poet and only take sides with good poetry? I can come up with enough examples for both poets and I'm sure many others can too. Let's consider this a tiny saevai for TFM lyrics. I will gladly set forth the categories that we can judge the two poets by and we can all go to work. If anything I hope this exercise will make one diehard fan of Kannadhaasan appreciate VM and vice versa.
Here are the categories to judge both poets by giving examples of lyrics they wrote for TFM:
1)Iyarkai Varnanai
2)Kaadhal Paadalgal
3)Thaththuva Paadalgal
4)Vaarthai Prayoagam
5)Nagaichchuvai Paadalgal
6)Samudhaaya Seerthirutha / Puratchi Paadalgal
7)Vingyaana/Naveena Karuthoottum Paadalgal
8)Ilakkiya Moolam Ulla Paadalgal
9)Kadhaikku Porundhiya Paadalgal(situational songs)
10)Kavidhai Milekarkal (Poetic Milestones that the poets will be remembered by!)
---
Responses:
From: Sesha Sayee (@ 202.54.5.70) on: Sat Aug 22 09:50:50 EDT 1998
I don't know weather this particular song
'SenthAZham Poovil VandhAdum thendral' in Mullum Malarum is written by kannadasan or not. Indha pAatula muzhukka muzhukka Iyarkai varnnanai ThAne?




From: Sriram Lakshman (@ sf-dnpqi-005.compuserve.net) on: Tue Aug 25 01:29:01 EDT 1998
You could notice some sort of Iyarkai Varnanai in
"Aarodum mannil engum" song from "Pazhani".

Pattu vanna selai kattee mutham sinthum nellamma
paruvam vantha pennai pole naanam enna sollammaa
annan thambi naalvar undu enna vendum kelamma
aruvadai kaalam unthan thirumana naalamma

In these lines "Nellu" is compared with a girl ready for marriage .

From: Udhaya (@ 205.218.142.217) on: Tue Aug 25 15:20:32 EDT 1998
Reva, Sesha, Sriram, thanks for your valuable contributions. I hope you guys will join the other topics in this symposium as well.

From: mathu (@ ) on: Mon May 22 00:34:58 EDT 2000
can anyone who knows where I can find Kandukonden Kandukonden and Mugavari songs please tell me at mathu@iprimus.com. Thanks

From: Sonali (@ 200.0704.mel.iprimus.net.au) on: Wed May 24 09:10:20 EDT 2000
Hi guys,
Can anyone tell me where I can find the lyrics from Mugavari and Kandukonden Kandukonden?
Please contact me at sonali_01@hotmail.com

From: jeevan (@ ) on: Thu Jun 28 08:58:28 EDT 2001
heloo VM onnum salachavar alla .iyarkai varunanai.avar puthagam padithu parunggal.

From: edakkan (@ 12.47.54.252) on: Thu Jun 28 10:10:03 EDT 2001
Sonali, you should revive the "vArththai prayOgam symposium" thread to get an answer for your question.

From: kavitha (@ ) on: Wed Dec 26 03:53:36 EST 2001
dear friends,
"varthai chithhar vairamuthu" has his own poetical style.no one can beat his varthai prayogam.
"nee naan petha thangaratham:iduppilulla nanthavanam"-it is one of the master pieces of Mr.varamuthu.
he is the role -model to asprints.

---
List all pages of this thread
Post comments