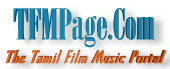 <!- ad ->
<!- Google search box ->

Kannadhaasan Vs. Vairamuthu TFM Symposium Topic 10: Poetic Milestones

Topic started by Udhaya (@ 205.218.142.217) on Mon Dec 7 17:59:15 EST 1998.
All times in EST +10:30 for IST.


A long time ago, prompted by a debate over Sivaji's comments about VM being better than Kannadhaasan, a few of us wanted to objectively conduct a comparison of the two TFM poets based on their actual works. Despite the obvious bias of most contributors, we managed to justify each poet's contribution in the ten given symposium categories:
1)Iyarkai Varnanai
2)Kaadhal Paadalgal
3)Thaththuva Paadalgal
4)Vaarthai Prayoagam
5)Nagaichchuvai Paadalgal
6)Samudhaaya Seerthirutha / Puratchi Paadalgal
7)Vingyaana/Naveena Karuthoottum Paadalgal
8)Ilakkiya Moolam Ulla Paadalgal
9)Kadhaikku Porundhiya Paadalgal (situational songs)
10)Kavidhai Milekarkal (Poetic Milestones that the poets will be remembered by!)

We managed to get as far as Topic 9. I would like to conclude the symposium with topic 10 so this symposium can vie for a permanent thread status in TFM page. There is plenty of research within these topics to be of interest to many TFM fans.

When you nominate a song as a poetic milestone please give a brief explanation as to why you feel the song merits this distinction.
---
Responses:
From: Ratna (@ webgate0.mot.com) on: Tue Dec 22 13:49:25 EST 1998
Hi

I have noticed that Vairamuthu sometimes slips in grammar, even in his acclaimed songs ... for example in "Ilaiya Nila" ... there is a line which goes

Mugilinangal Alaigirathe Mugavarigal Tholaindhanavo

Should'nt it be Tholaithanavo ??

Also in "Thangamagan ingu singa nadai pottu (Baasha)" should'nt

Chinna Kalaivani
Nee Vanna Chilaimeni

be

Chinna Kalaivani
Un Vanna Chilaimeni

I have always felt this to be kind of jarring when listening to these songs. I might be wrong, if so , correct me. On the contrary I've never felt anything so obvious when listening to Kannadasan, or even Vaali for that matter.

From: Murali Sankar (@ 129.252.23.239) on: Thu Dec 24 19:27:55 EST 1998
Dear Ratna ,

Abt Ilaiya nila. The line is grammatically right.

Abt the another song, I think you are riight.

Murali Sankar

From: Arun (@ ) on: Thu Nov 23 16:49:37 EST 2000
none of us should forget the song paarthen,sirithen pakkam vara thudithen ....
especially the line
unai then ena nan ninaithen andha
malai then ival ena malaithen.
excellent piece of work.I ve never heard or even heard of any such lyrics anywhere and by anybody.
Thanx

From: HARI NIKESH (@ ) on: Sat Sep 15 10:40:41 EDT 2001

Hahaha....comparing Kavigar with Vairamuthu...hahahhaaaa.....Kannadasan is Mount-
Everest and V is not even'Parangi malai'!!haha
That's really fun to compare the great with a
'pathoddu pathinonnu'
Like there is only one Shivaji,there will be
only one Kannadasan...that is my final,humble
opinion.

From: Kupps (@ 156.153.255.126) on: Mon Sep 17 01:48:05 EDT 2001
Mugilinangal Alaigirathe Mugavarigal Tholaindhanavo

Naan thamizh ilakkanathil avvaLavu thaerndhavan kidayaadhu irundhaalum oru siru sandhaegam, makkaLae theerthu vaipeergaLaaga.

"MugilinangaL" essentially plural coz he is talking about plural, collectionS of clouds. he is not saying as "mugilinam" (or) "mugilgaL inam". So shouldn't the verb following be "alaigindranavae" instead of "alaigiradhae"?

dhayavu saeidhu ikkaeLvikku vidai kooravum.

NanRi.

From: Kupps (@ 156.153.255.126) on: Wed Sep 19 03:58:04 EDT 2001
any ideas?

From: G.Ragavan (@ 164.164.94.115) on: Wed Sep 19 07:29:42 EDT 2001
kupps! neengkal ninaipathu muzuka muzuka chari.
"Mukilinangkal alaikirathey" is a perfect illakannap pizai (gramatical mistake).

Unfortunately, this line is used by VM fans to project his poetic talent.

From: Udhaya (@ 63.89.188.180) on: Wed Sep 19 12:49:45 EDT 2001
kupps and G.Ragavan,
Not to apologize for VM on this plural-verb disagreement, but doesn't it make sense if it was intended as a question "mukilinangal alaigirathaen? mukavarigal tholaindhanavoa?" SPB could have smoothed out the end of the word for melodic reasons (again reasons I don't agree with but this is done a lot by singers and MDs).

From: sk (@ 137.132.3.8) on: Wed Sep 19 17:48:15 EDT 2001
Udhaya:
That was a good one. alaigiRathE and
alaigiRathEn are so close in pronunciation.
Note also that VM uses tholanindhanavO
(and not tholaindhadhuvO) for mukavarigaL.
So he is grammatically alright there.

If I remember right, the criticism on VM for these
2 lines goes back to some guy's article on 'formula
writing by VM'. VM may write formula-based-songs
routinely. (Actually, in his busy schedule such
writing is unavoidable. Also, many many people
actually enjoy such songs.) But these lines that
are being criticized do not fit into that discussion.
VM should be given credit for the thought expressed
in these lines... the random movement of the clouds
appears as if they are searching for something whose
address they have lost. The song is a classic.

From: Vimarsagan (@ 204.247.202.170) on: Wed Sep 19 20:49:12 EDT 2001
NaNbargaLe,

While fitting the songs to the music, grammer has to be sacrificed deliberately sometimes, and I think that is tolerable as long as it doesn't sound ugly. IMHO,

Mugilinangal Alaigirathe Mugavarigal Tholaindhanavo

is quite ok.

I can quote one example from Kannadhasan,

"Enathu vaazhkai paathaiyil eriyum irandu dheepangaL
ENNai illai onrile
Enna illai onrile"

In the above song, the last word "onrile" should be "innonrile", if it has to be a correct sentence.

Vairamuth has long way to go to reach half of Kannadhasan.

From: Kupps (@ 156.153.255.134) on: Thu Sep 20 01:01:38 EDT 2001
mukilinangal alaigirathaen? -- arumai Udhaya :-). This view cannot be discounted easily.

But again this idiot has a sandhaegam is the querying word alaigirathaen plural or singular. my hunch says that it is neutral :-) i.e. could be used for/with any numbers. But please clarify.


From: G.Ragavan (@ 164.164.94.115) on: Thu Sep 20 05:18:44 EDT 2001
Udaya! Good explanation. I liked it. I would like to quote similar situtuation with PS.

Thangkathile oru kuraivirundthaalum
tharathinil kuraivathundo

This is what Kannadasan wrote. When PS was dictated, she was told wrongly. Only after the recording MSV noticed and took the issue to Kannadasan. KD like the mood in which PS had sung the song and just approved to song (not to miss it). That is why the song is now,

Thangkathile oru kuraiyirundthaalum

Vimarsagan,

Grammar need not be scarifised. Do you remember the song "Pachaik killi Muthuch charam". It was written by Vali for MSV's tune. This song satisfies the grammar of Vanjjipaa. It is possible to go with the grammar.

From: Vimarsagan (@ 204.247.202.170) on: Thu Sep 20 20:14:55 EDT 2001
Ragavan,
I am not telling grammar will be sacrificed ALL the times, I said SOME times. Sometimes lyricsts don't bother about grammer when rhyming is good and meaning is conveyed.

From: babu (@ 172.154.188.158) on: Thu Sep 20 23:28:58 EDT 2001
"Pachaik killi Muthuch charam" is that vanjippa ? Thats interesting, I need to listen to it.
Not sure if this has been discussed, but in the song "Ethetho eNNam vaLarththen", two lines go:

"sila pUkkaL thAnE malarginrathu
pala pUkkaL EnO uthirkinrathu"

Isn't that wrong ?

From: G.Ragavan (@ 164.164.94.115) on: Thu Sep 20 23:54:46 EDT 2001
Babu, "Chila pookal malarkirathu" is also a perfect grammar mistake.

---
List all pages of this thread
Post comments